Since the beginning of the COVID-19 pandemic, Marquee has been hard at work to ensure camps and shows are done safely and effectively, following all government and public health guidelines. With our summer camps in full swing, we're hoping to give you a full rundown on how Marquee has shifted with the times and managed to safely operate summer camp under the current circumstances.
This year, we have our virtual online camps, but we are also proceeding with our live camps as well. We're going to have two different options, a virtual one for people who are not comfortable with coming in, and a live one for people who want to come into the studio!
So, today, we're going to share with you all of the measures we are taking to ensure that your child is safe while they are in our care, and so you can better understand how to make an informed decision as to which camp is right for you.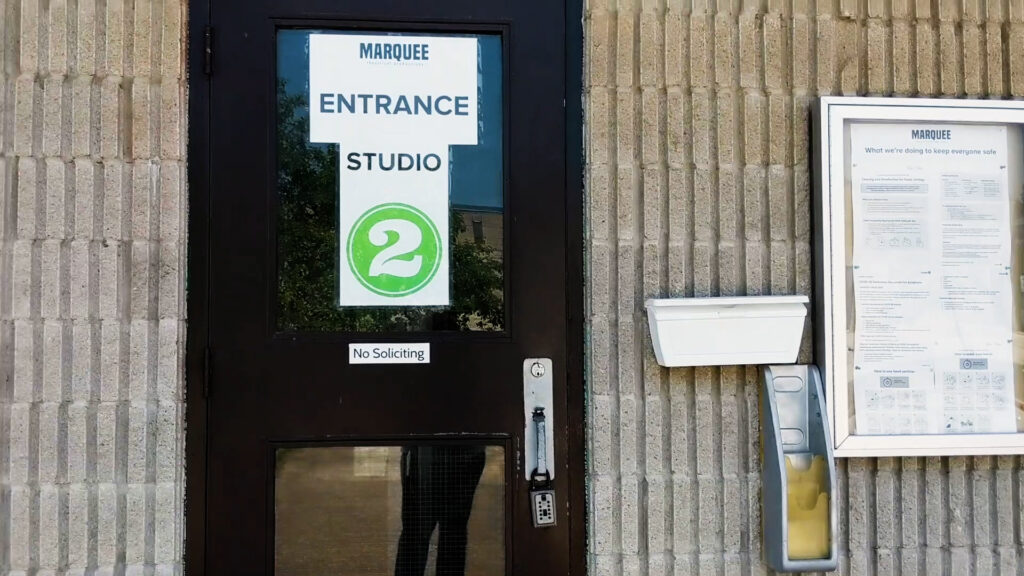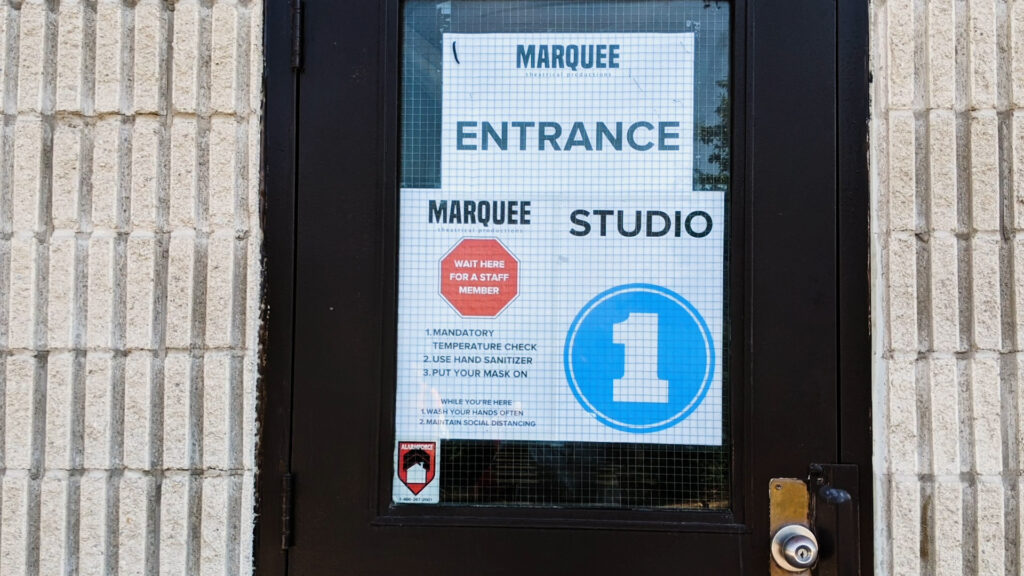 When you first arrive to our in-person camp, you will find all of our procedures posted in the pamphlet holder right outside our main entrance. Our main entrance will be used only for one group of 10 campers, and just a few steps down towards the back of the building, you will find another door to Studio 1 that will be for the next group. Then, on the opposite side of the building where the loading dock is, there is another entrance for the third set of students that will lead them to Studio 3.
Every day as students arrive, parents are directed to our drive-in COVID checkpoint where we welcome each participant, take their temperature and ask a few simple COVID check questions. Once completed, they are directed to proceed to an assigned door where they will sanitize their hands upon entry.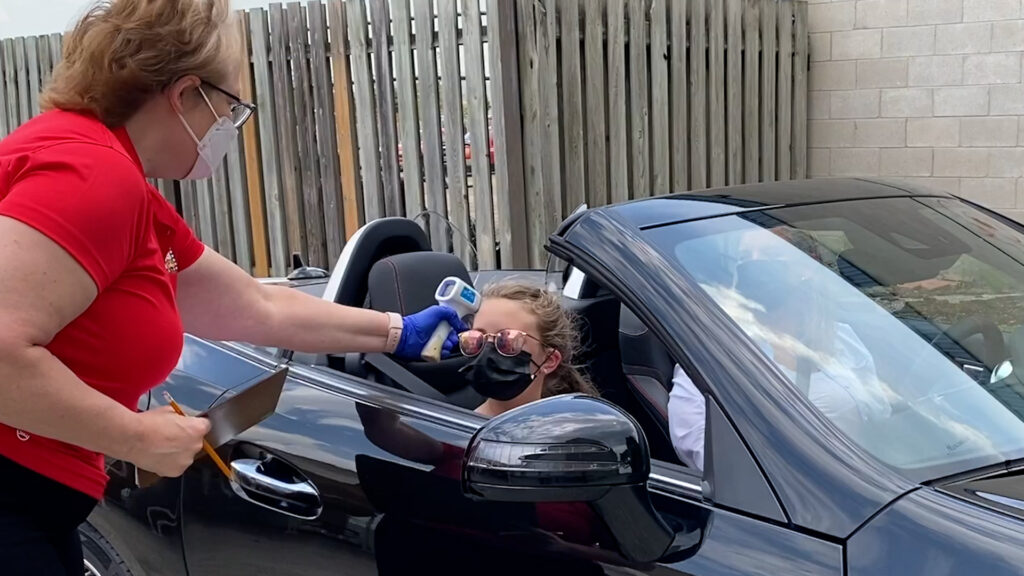 Each Studio is going to be equipped with the following supplies:
Hand sanitizer
Facial tissue
Extra masks
Paper towel
Gloves
Certified surface cleaning spray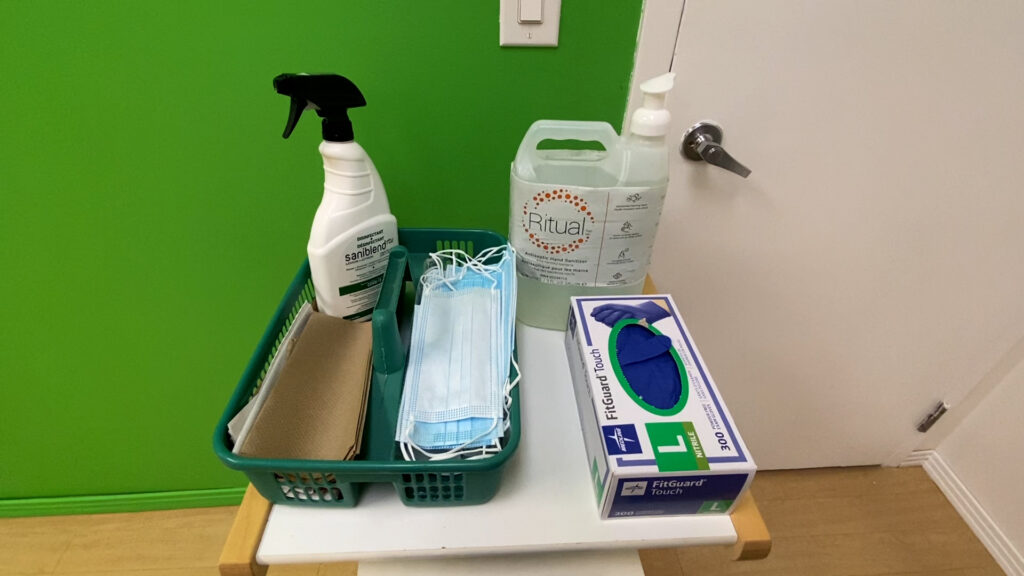 Each studio and our outdoor space is also equipped with a green screen and filming equipment. The green screen will allow us to create backgrounds for the films as we cannot be on a stage with the set, so our great VFX team will be bringing the show to life digitally!
As per the government guidelines, we have prepared our studios for when indoor gathering is permitted. Each studio has clearly marked X's on the floor measured to the social distancing guidelines. We will be sure to respect the maximum number of bodies permitted per room while remaining 6ft apart at all times.
We have also implemented a strict cleaning and regular sanitizing regimen based on the guidelines set out by the Ontario public health department, including sanitizing the bathrooms after each use. Furthermore, all of our cleaning and safety precautions will be overseen and done in consultation with our in-house nursing student.
We will be spending as much time outside as possible to enjoy the weather, but also to keep it as safe as possible wherever and however we can.
We've also invested in hula hoops – but they're not just for hula hooping! We will use these when going to the park so we can properly measure the distance between each camper to ensure that we are social distancing.
At the back of the building by the entrance to Studio 3, we've set up 4 large tents that will allow us to rehearse and record all of our musical numbers outside as we are not permitted to do any singing inside the building. We will also be using the clearly marked parking spots in the lot behind the building as social distancing guides when spending time outdoors.
Marquee is committed to the safety of all of its members. So please feel free to contact Marquee's office at 905-713-1040 with any of your questions or concerns – we are here to help.
If you are interested in participating in Marquee's summer camp productions of Pinocchio Jr. and Seussical Jr this year, you're in luck! There are still spots available – but they won't last long! Head on over to Marquee's Website and sign up today.