Marquee has had the pleasure of teaching so many talented artists over the years. And with every show, we continue to meet and work with great new talent that we have no doubt will soar to amazing heights. So, Marquee has decided to start featuring some of the great names that have passed through our studios just to show you all that's possible if you believe in yourself.
And to kick off this feature series, we have the great pleasure of introducing Landon Doak, a former student at Marquee who has now moved on to bigger and greater things in the acting industry.
You may have seen him on the stages of York region, on the hit TV series, Murdoch Mysteries or even playing Sid Savana on the feature film, Shazam!
After starting at Marquee when he was only 12 years old, Landon continued to participate in both youth and adult community shows for a few years before heading off to begin his own journey as a professional actor.
"Marquee was the second show I ever did in my entire life. It was the Sound of Music and I was Captain Von Trapp, and I was 12 years old. […] The only other show I had done before was Pirates of Penzance […] and then yeah, I started coming to Marquee.
After a year of being at Marquee, he recalls playing in his second show at 13, Westside Story.
"I remember I started having a complex cause my voice did start changing when we were opening the 3 shows or whatever, and I was so stressed 'cause I had to sing "Dear Officer Krupke" up the octave and I couldn't do it anymore. So I mean that's how my early theatre experiences were being at Marquee young – that was the beginning.
Landon had no shortage of the normal ups and downs growing up in theatre, but he never let any of that stop him from doing what he loved to do: perform. Throughout his time at Marquee, Landon fondly remembers how it allowed him to form many friendships and bonds with all different kinds of people, from all different walks of life.
"I still definitely have friends that I met there because the theatre world is small […]

I feel like […] maybe this isn't true anymore, but anybody who's in a theatre program is in a theatre program because they're kind of on the fringes of how kids are and people are. And they're the kids who aren't necessarily playing sports or doing what all the other kids are doing, and that's where we all find what else we can contribute to the world. And that's where I found what I can contribute to the world."
He describes Marquee and the theatre as a place where those who feel like outcasts, can feel like the normal ones when they're all together. It's a place where people, through any and all differences, could connect on their same, single passion and love for storytelling. Landon especially felt this when he got the chance to do Marquee's adult production of Peter Pan.
"I was so excited to do that. I felt like I had made it because there were adults in the show. That's amazing because that's one of the things that's true in the professional world too because you're working with people of all ages. I did a show where my two scene partners were a nine year old kid, and a man in his sixties, and me. And we're playing father son and all that, but in reality we're all working together. We're all equals. And it's one of few places where you can do that."
Onto New Things
Landon went on to attend George Brown's theatre school, and once he left, he went on to work in the Shaw festival and then the Yes Theatre at in Sudbury where he participated in the musical production of American Idiot.
Over the past 4 years, he's been mainly involved in Soulpepper Theatre in Toronto, where he has just recently done the music for a new adaptation of Peter Pan, one he initially produced within Bad Hats, a theatre company in Toronto created by himself and some friends from school.
Landon has just begun his journey at Stratford and is committing fully to his career in musical theatre while also expanding his skills into different artistic domains as well.
I definitely find in the industry, it's really hard to do one thing now. There aren't even really just actors anymore. Just being an actor is, yeah, kind of "out". Everybody has one or two, maybe three, kind of artistic disciplines or businesses or side hustles because it's hard to make a living as an actor. You can, but it's hard and you have to kind of diversify. So I've definitely done some film and television.

I'm writing a lot of musical theatre which is so funny because […] the first few musicals I was in were, like, the greatest musicals ever. Right? Like that's what you do, at Marquee, is just like the biggest hits. So I have these soundtracks burned into my brain. As a little kid, I was obsessed with the music of all of these shows. I was the only 11-year-old who would know the entire soundtrack of The Sound of Music or Pirates of Penzance or West Side Story [..] So I'm writing new musical theatre as well – that's another thing I do.

I'm a singer-songwriter, and an actor and…yeah – I'm still not much of a dancer […] But the music, the acting, the storytelling, being with a group of people […] who are all kind of on the fringes in school, yeah – it's the best […] so I'm very lucky."
Skills and Abilities Learned through Marquee
"I wasn't somebody who played sports, this [Marquee] was my first team that I had ever been a part of […] so getting to work with a bunch of people like me everyday gave me all of those skills. So just how to collaborate, and how to just be kind with each other, the people who lead us were always amazing people and took care of us and taught us […] how to just be a team and work towards a common goal. As well as just like the basics of acting and staging and turning out and singing and singing in harmony […] and, yeah, learning choreography. The musical theatre 101. The foundation of just fun.

And I think theatre and Marquee, especially doing the adult production or just the community shows, […] the older people feel really young and the younger people become nicely mature, and everybody's just human and polite and you find what you have in common. […] Theatre just gives you all of that, that common thing to bond about, become friends about – no matter who you are or what age you are. Yeah, I learned a lot."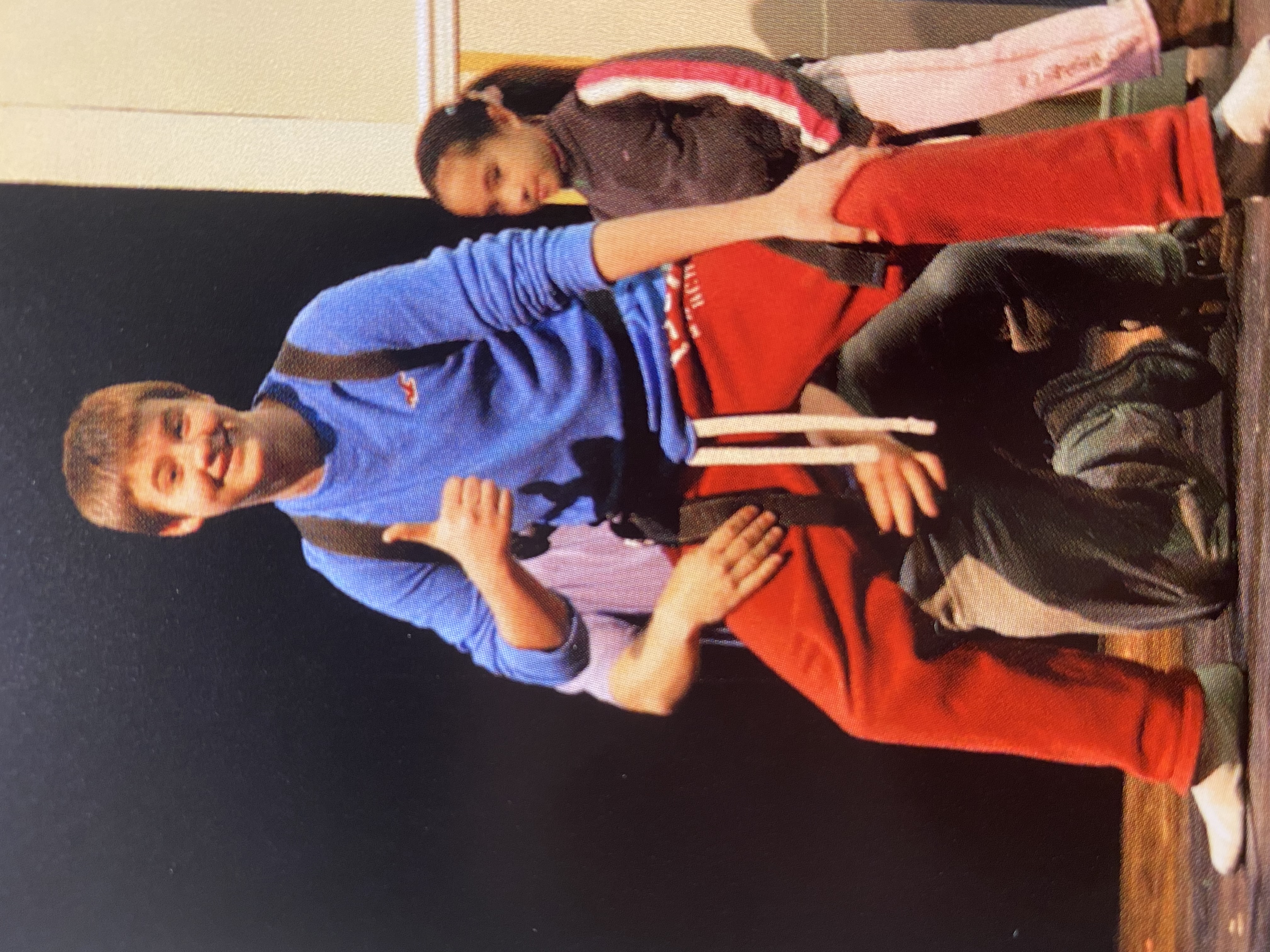 The Future Goal:
"I want to write a bunch of musicals, I love writing musicals and putting myself in that as a part of that show. So I want to keep doing that, and I figure I want to write one Come From Away, one Evan Hansen, one Hamilton – one something. I need one. I'll write so many, but I want one to afford me a house. That's what I want. That's my dream."
A Lesson Learned
I don't know if there's such a thing as really "making it". Becoming famous or something, I think is something that happens to people and is a combination of luck and timing and it's something you can't guarantee, but you can be a working, living artist. And it's an amazing life. Yeah. Just that that's possible – and that's really cool. Getting to make art with artists everyday is a gift. It's a really cool way to live a life."
Landon also expressed how he's learned what a small world it is within the theatre community, and how this is especially true for Canadian theatre.
"There's like six big pillars in the country of theatre companies and then there's regional theatre everywhere, but it doesn't have the same support that the United States has with their theatres so it's really tight knit and everybody knows everybody and everybody's worked everywhere.
Some Final Words of Wisdom
And finally, Landon has some words of wisdom for any of you theatre folks or aspiring actors out there:
"Only do it if you really have to do it. If you can do any other job in the world, do it. Do any other job. You only do this if you really want to or really have to […]. And then it will be the best life. But I think for a lot of people, the reality is tough. But it's awesome to get to do it, if you feel really inclined to […]. And I'm one of those people. I feel like I just gotta do this – but if you can do any other job, you should probably go do that other job […] When you're a kid you can't grasp what 70 thousand dollars a year looks like what 30 thousand dollars a year looks like what 200 thousand dollars a year looks like. You have no concept of what any of that is or how much a weekly wage is. You just don't know. I just did this because I loved it. I loved it. And I wasn't a math or an academic student[…]

I was just an artist. And so I'm doing it"
Landon is now currently in Stratford for the summer preparing for his upcoming, outdoor production of the fun, family friendly show: I am William. It will be socially distanced, outside, under canopies with 100 seats available – and they will go fast!
Make sure to get your tickets and keep up with Landon on Instagram @landondoak